Automatic recycling of bottle blowing machine
This solution is suitable for the automatic crushing and recycling of side materials and waste products in auto parts, home appliances, daily chemical packaging and other industries, especially the crushing and recycling of hollow materials such as plastic bottles and other blow-molded products.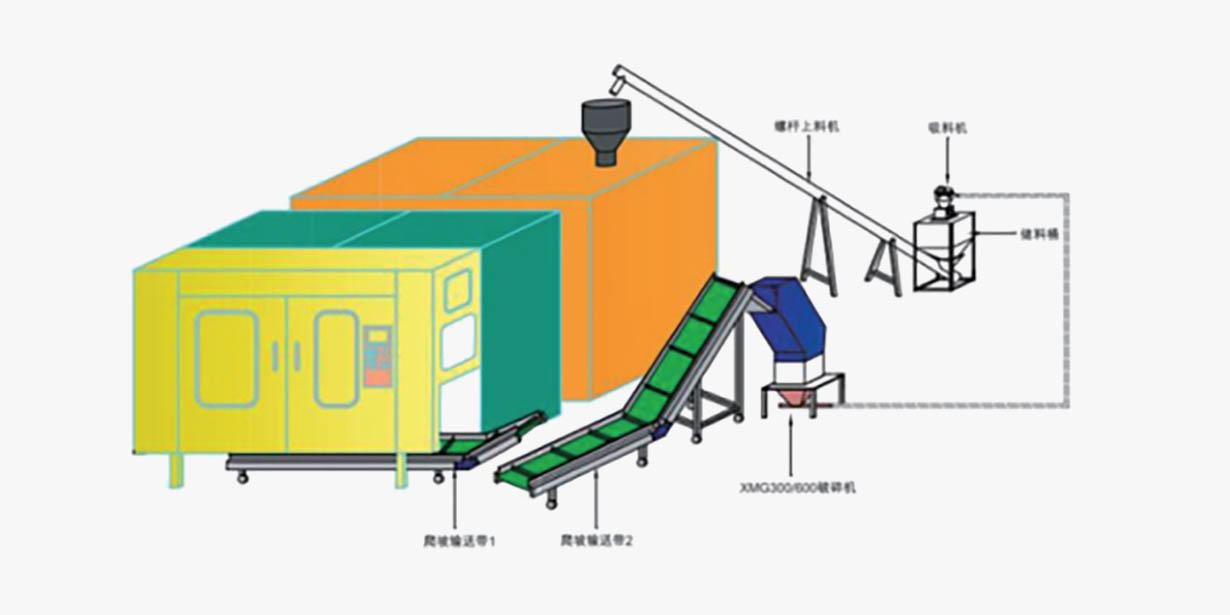 The HGMS1000/1500 medium-sized low-speed granulator we selected for it has a uniquely designed stepped rotary knife arranged in a V shape, so that it can grab the crushed material in the center of the crushing cavity and prevent the material from sticking to the side of the crushing cavity. 
On the wall, the stepped rotor is designed so that when the machine is crushing materials, only one cutter is cutting at any time, thereby increasing the cutting torque of the machine. Specifically, low energy consumption, low speed, excellent crushing effect and so on. We automatically send the scraps and waste products generated during the production process of the blow molding production line to the HGMS1000/1500 medium-sized low-speed granulator we selected for crushing through the conveyor belt, and send the crushed materials directly through the suction machine or the fan. The storage box, or directly into the machine, forms a set of automatic crushing and recycling system dedicated to the bottle blowing machine. 
Features and advantages:Automation, scrap and waste products, without manual crushing and handling, greatly reduce labor costs and greatly improve production efficiency.